Try our Eligibility Checker today to see your chances of getting the loan you want
Check now
Online loans explained
We've possibly never had more choice than we do now when we need to borrow money. Today, we can borrow money from online lenders in an instant as well as approaching the more traditional types of finance companies like banks, building societies, and credit unions.
Instant online loans like those we arrange for borrowers with Financial Conduct Authority (FCA)-authorised and regulated lenders are an increasingly popular option for many. According to the Sun newspaper, 5.4 million of us took out payday and short term online loans in the year to June 2018. Did you know that, in the North West of England, there were 125 online loans taken out for every 1,000 people?
If you're employed and you're in need of a short term cash boost to tide you over to your next payday, are online loans the best way to handle any financial emergencies or unexpected bills?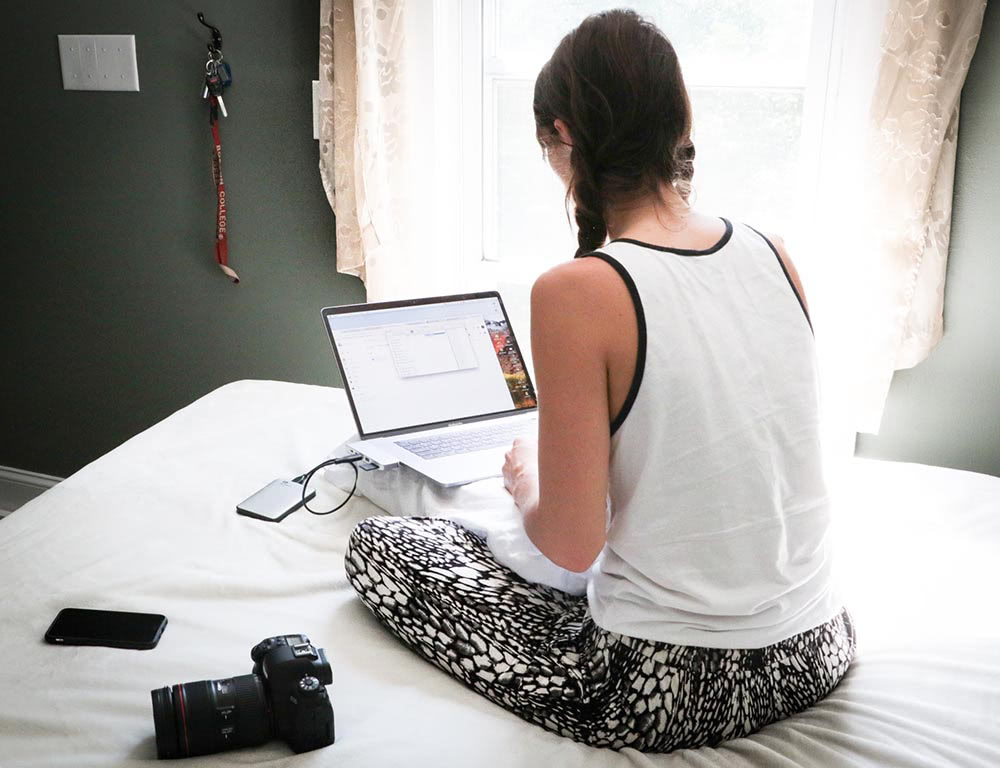 Key benefits of online loans
Alternative options to online loans include borrowing money on your credit card or asking your bank to extend your overdraft limit. Each option you have for borrowing money has its own advantages and disadvantages. So, what are the pros and cons of online loans?
Fast service:
When you do need money to cover a financial emergency or an unexpected bill, speed is essential. We understand that, and so do all of the FCA-authorised and regulated lenders on our panel. We've made the application process as simple as possible and, based on the information you give us, we'll select the lenders on our 40+ strong panel most likely to approve your application.
Quick approval process:
Gone are the days when you needed to take a lot of paperwork plus copies of your ID down to your bank for a meeting with the manager. We accept all of our loan applications online and your application form should only take you 2-3 minutes to complete. You don't have to leave the house – you can do it from the comfort of your own home on your computer, tablet, or smartphone.
Once we've contacted our partner lenders with your application, we then direct you automatically to the website of the lender on our panel who is likeliest (although not guaranteed) to offer you a competitive and affordable loan. If they approve your loan, you could be sent your money within minutes* of signing your lender's online credit agreement. Please note in some cases we are unable to match a borrower to any lenders on our panel.
Custom loan amounts for your situation:
We can arrange loans of between £100 and £10,000 which you can repay over a period of 3 to 60 months. Most online loans are for smaller amounts and you generally pay them back over a shorter period than you would for a larger loan from a bank. Just make sure that you know exactly how much you want to borrow (don't borrow any more than you actually need) and that you can make all of your repayments on time and in full.
Flexible repayment options:
Many of our lenders allow you to choose to make your monthly repayments on the day that you get paid from work. That's often better for budgeting and it means that your credit record will show a successful payment every month (if you have enough in your account to make the repayment) – handy for maintaining or improving credit score. You'll also know the amount you'll be repaying every month meaning that there's no nasty surprises.
High approval:
Every time a lender wants to join our panel, we ask them exactly what type of borrower they like to work with. They tell us what they're after in great detail and this means that, when we look at the details you've provided us with on your application form, we're better able to match your application to the lenders who are most likely to approve a loan for you.
This means that you don't have to go to direct lender website after website to make application after application. When you apply direct to a lender, you can never be certain if you're the type of borrower they're looking for. But when you use Growing Power, we take care to ensure that we only introduce you to the lenders looking to help people in the same financial situation as you.
Apply from home or on the move:
Don't fancy battling the traffic to get to your bank? Is life so hectic with work and the kids that you're not even sure when you could make an appointment with your bank manager? We understand that, so we've streamlined our entire application process so that you can apply on your desktop, laptop, mobile, or tablet 24/7 at a time convenient for you.
Fast cash access:
If we find a lender for you and they approve your loan, we know that you don't want to wait around for the money – you need it now. Many of the lenders on our panel will send the money to your personal bank account within minutes* of your accepting the loan. Please note that, depending on your bank's policies and procedures, your money may take longer to arrive.
Unrestricted spending:
Whatever reason you want the money for, we'll do our very best to find a lender who's happy to lend you the amount that you require. Need to replace some aging furniture? Has the TV broken? Have you got a large bill from your vet for your beloved pet? Online loans can be a lifeline as long as you're sure that you can meet all of your repayments comfortably.
We all need money for different reasons. Credit cards and overdraft extensions are useful but we think that one of the major advantages of online loans is that there's an end date. If you make the minimum repayment on your credit card or you find yourself living in your overdraft, it may take years to pay off the debt that was caused by your unexpected bill or emergency expenditure. With an online loan, once you've paid it off, you've paid it off and you'll know exactly when your last loan repayment will be.
| | | |
| --- | --- | --- |
| | Growing Power | Choose us because… |
| How much can I borrow? | £100 to £10,000 | Manageable repayments |
| Chances of getting a "yes" | High | Application takes 2-5 mins |
| Can I pay the loan back in instalments? | Yes | Repay your loan over 3-60 months |
| How can I apply for a loan? | Online, 24/7 | No fees, no obligation |
| Can I pay the loan back in instalments? | Yes | We don't charge any fees |
| Do I have to pay back a lump sum? | No | No paperwork |
My credit score and applying for a loan
There's a lot of confusion around credit scores and how important they are. That's because there are three different credit reference agencies (Equifax, Experian, and TransUnion) all compiling information on you. It's also because each lender has their own "borrower profile" – in other words, who they want to lend to, how much, how long for, and for what reason.
There are some lenders who only want to give loans to people who earn a lot of money and whose credit history is spotless. But did you know that there are many different lenders in the UK who specialise in providing short-term instant loans to ordinary people and their families whose credit history is not perfect?
Lenders who only want to give loans to people with perfect credit histories look at the following information when they're deciding on whether to approve someone's application:
Basic personal information:
Your credit file will contain information on your name, when you were born, and where you live and have lived.
Some experts recommend checking the information on your credit report every year to see if what they have on you is correct – according to the Mirror, 10 million adults have found errors on their credit file. The Money Advice Service has advice on how to check your credit report. Errors in how your address is recorded on your credit file often leads to delays in a lender approving your loan.
Outstanding debt level:
On your credit report, lenders will look at how much debt you currently have to help them understand how much you rely on credit to get by. They will also look at your outstanding balances (the amount you have spent on all your credit cards, loans, overdrafts, and so on) and your current limits (how much you can spend on your credit cards, loans, overdrafts, and so on).
The bigger the gap between your overall balance and your overall limit, the better because your lender will think that you manage your debt well.
Number of late payments:
Many people miss the odd payment now and again and, most of the time, it doesn't seem to affect your credit score. Your credit report will show each missed payment (and how much it was for) and the more missed payments you have, the more likely your credit score will go down.
Has your home been repossessed:
Lenders do get concerned if you've missed mortgage payments because they think that, out of all your financial commitments, the one you'll always make sure you make repayments on is your mortgage.
If your home has been repossessed, then this can have a hugely negative effect on your credit rating and it may make finding a loan particularly difficult for you.
County Court Judgements:
If you miss a few repayments and you're not able to come to an agreement with a lender on a repayment plan, your debt may be passed to a debt collection agency who may apply for a County Court Judgement (CCJ) against you.
The presence of CCJs on your credit report will mean that most mainstream lenders will not consider you. You will likely receive a more sympathetic approach from bad credit online lenders - however, if you are offered a loan, it may be at a higher interest rate because of your CCJs.
Bankruptcies and IVAs:
If you have an Individual Voluntary Arrangement in place to pay your debts, there are rules which govern whether you can take out a loan or not – click here for more information on this on the StepChange website. StepChange have also produced a guide on getting credit if you've been declared bankrupt.
Are you on the voters' roll:
You should always make sure that you're on the electoral register as that's one of the most important factors in lenders' decision-making processes. If you haven't registered, you can register online.
Although a lot of decision-making for borrowers with perfect credit scores is automated, many financial institutions may still require ID checks, copies of bank statements, and more when considering an application.
How is it different for bad credit lenders? The approval process for bad credit lenders is a lot more streamlined. That's because most bad credit instant loans are needed in a hurry to help out when a situation arises that a borrower can't cover with their savings. A lot of the time, borrowers need the money now and bad credit lenders appreciate that.
Bad credit lenders and brokers use pre-approval processes to give borrowers a much better idea before they apply whether they're eligible for a loan or not. Want to find out the likelihood of being offered a loan through GrowingPower? You can by completing our eligibility checker. No credit search is run on you at any point. Within 60 seconds of completing the form, we'll then show you our confidence rating on your loan being approved. Please note that a high confidence rating does not guarantee that you will be approved.
If you're in regular employment and you have enough spare cash every month to comfortably meet the repayments of a loan, there's a good chance that we can find a lender who will want to work with you (although we can't guarantee that).
What you need to know
Online loans are one of many choices that borrowers can select when they're looking for quick funding to help them out financially. Online loans have some distinct advantages compared to credit cards and overdrafts, particularly if you only pay down the minimum amount on a credit card or overdraft every month. Everyone has their own individual circumstances so it's worth comparing all the options to see which one works the best for you.
Over 40 FCA-regulated and authorised lenders are on our panel, many of whom help borrowers with bad credit histories every day. By applying for an online loan through Growing Power, we can put you in touch with those lenders most likely to be interested in working with you based upon the information you've given us. Our service is completely free of charge and there's no obligation to accept the loan offer we find for you.
There are other borrowing options available to you if you need money in a hurry, including using your personal savings, speaking to friends and family, guarantor loans, and logbook loans.
Ensure the choice you make is right for you, your family, and your financial situation. If you're struggling with debt at the moment and you feel that they are becoming too difficult to manage, you may benefit from getting in touch with one of the UK's debt help organisations – StepChange, PayPlan, National Debtline, the Debt Advice Foundation, the Money Advice Service, and Citizens Advice.
If you decide an online loan is right for you, try Growing Power. Let us do the searching on your behalf and give us the opportunity to find a competitive and affordable loan for you from our panel of lenders.